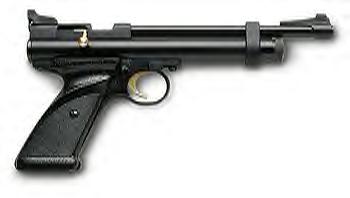 The Crosman 2240 Air Pistol
By Dan Selvig
Originally Published June 2000
---


click the ad to visit this advertiser, View All Advertisers On This Page

---
After reading the Airgun Digest review of the Crosman SSP pistol in late 1998, I found my lamenting the fact that I never bought one while it was in production. Soon after that, I discovered that, much to my suprise, Crosman had re-engineered the SSP and designated it as the Model 2240. At the same time, Crosman brought out a couple more companion models to go along with 2240. The 2250, a backpack rifle, and the 2260, a full size rifle both complemented the introduction of the 2240. They all look like they have the same powerplants and bolts. It was a few months between the new product announcement and the time the new model began shipping, but I finally found a supplier who carried them. My 2240 retailed for $49.95 plus shipping.
The operation of this pistol is still a picture of simplicity. To charge the pistol, turn off the cap at the front of the CO2 reservior and put a 12 gram cartridge neck first into the tube. Screw the cap back on and open the bolt to cock the piece. Then close the bolt on an empty chamber and point it in a safe direction before pulling the trigger to pierce the CO2 cartridge. Cock the bolt again and put a pellet in facing forward in the loading port. The trigger safety is still the old familiar crossbolt on the gripframe right behind the trigger guard. That's all there is to it.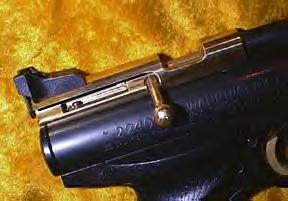 Crosman borrowed their classic grip frame from their 1377 pistol for the 2240. They replaced the old flipup breech of the SSP with a brass turnbolt which gives this pistol a distinctive look. The bolt holds an O-ring seal for a more positive seal against pressure loss at the breech end. A plastic receiver holds the bolt and the bolt locks up against a shoulder on the receiver. Personally, I would have preferred that this receiver be made of metal instead of plastic. Since the plastic receiver is relatively soft, it will wear prematurely if the pistol sees a lot of use. I have seen an aftermarket brass sleeve (Tussing Enterprises) that is also grooved for scope mounts. This would really come in handy for those who prefer to mount a scope on this pistol. Your only other alternative for scope mounting would be a barrel clamp mount. I am not sure whether the Sheridan mount would be an exact fit on the 2240's .22 caliber barrel, but it might be close.
The trigger on the 2240 is not meant to be adjustable, but a competent airgunsmith can lighten the pull and smooth it out so it won't feel so gritty. Although I don't have a trigger scale, I found the trigger pull to be on the heavy side. The trigger is grooved, but it is still a little too narrow for my taste. Putting a trigger shoe on it will make the heavy trigger pull a little more tolerable.
This pistol is intended to be a paper puncher. I do not recommend that you to hunt with it, but if you feel so inclined, limit you targets to critters like rats and starlings. Remember that this is a CO2 powered arm and that velocities fall off once the ambient air temperature falls below 70 degrees Fahrenheit. It will not perform very well outdoors in winter temperatures.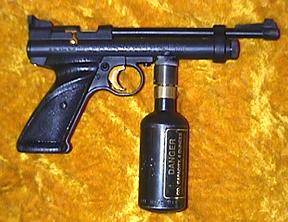 One particularly interesting custom modification that I came across has a constant pressure tank screwed to the reservior tube. It looks a bit awkward as far as handling goes, but you sure could get a lot of shots between fills. I wouldn't mind having one on my pistol because you only get about 40 useable shots per CO2 cartridge. This particular example consistently shoots .25" 10-shot groups at 20 feet.
My chronograph tests with three different types of pellets revealed that actual velocities came relatively close to the advertised velocity. Each of these readings was taken from the first 25 shots of a fresh cartridge. Using my Chrony F-1 chronograph, I came up with the following results:
Crosman 2240 Velocity Results
Gamo Match
Wadcutter
Benjamin
Diabolo
Crosman Premier
Domed
Average Velocity
427.3
412.8
430.1
Standard Deviation
6.3
7.1
4.9
Highest
435.9
422.0
441.9
Lowest
414.0
406.3
422.4
Extreme Spread
21.9
15.7
19.5
Weight
13.8
14.3
14.3
Energy
5.6
5.4
5.9
Velocity results were calculated from 25 shot strings.
I took my 2240 accuracy readings at my 10 meter basement range. Using the same collection of pellets, I came up with the following results:
Crosman 2240 Accuracy Results
Gamo
Wadcutter 13.8
Benjamin
Diabolo 14.3
Crosman
Premier 14.3
Average Accuracy
1.02
1.15
.96
Smallest
.98
1.02
.76
Largest
1.17
1.22
1.08
Accuracy tests were based on 10 groups of 5 shot strings shot at 10 meters.
I liked the overall looks and handling of this pistol. It seems to balance very well in the hand. There are rumors that there is a repeating version of this pistol in the works. I can't wait until they bring out a semiautomatic version. This pistol also comes in .177 caliber which is designated as the Model 1740. We'll keep tuned to see what the future has to offer from the folks at Crosman.
---

click the ad to visit this advertiser, View All Advertisers On This Page

---
Crosman 2240 Specs
Model
2240
Manufacturer
Crosman Arms
http://www.crosman.com/
Type
Bolt action single shot
CO2 Powered
Caliber
.22
Velocity
460 fps
Length
11.13"
Weight
29 oz.
Sights
Front fixed, rear adjustable for windage and elevation
Scope mount via barrel clamp mount
or aftermarket grooved receiver
Stock
Black molded plastic
Safety
Manual crossbolt
Trigger
Single stage non-adjustable
Retail price
Around $40
Back to Review Page
Back to American Airgun Home
Top of Page
---

click the ad to visit this advertiser, View All Advertisers On This Page

---
© Copyright 2006 by Brad Troyer & American Airguns
---