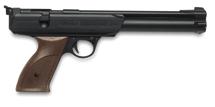 The Daisy 7x7 Air Pistols
By Jay Axelrod
---

click the ad to visit this advertiser, View All Advertisers On This Page

---
I am a silhouette shooter and over the years I have heard about legends in silhouette. I sometimes wonder if it's just hype. One of those legends just happens to be an air pistol, the Daisy 717. The Daisy 717 is actually the entry level of Daisy's 7x7 line. Daisy's 747 is the next step-up with some upgrades such as an adjustable trigger and the Lothar Walther barrel. The top of the line was the 777 with a refined target rear sight and wood grips however it has been discontinued. There was also the 722 a 22cal version of the 717 that was also discontinued. The molded plastic grips on the 717 and 747 are target style with a thumbrest and I find them comfortable. Have no fear if you're a lefty, Daisy has the target grip for you as well and it's under $15.

The 777 was the top of the Daisy 7x7 series.
I started testing with three new Daisy 747's and found Daisy included 2 test reports for each pistol, one is a report with a 5 shot test of velocity and deviation, the other is a test target at 10 meters. I gave the three pistols a quick check and found one pistol had two minor problems. One problem was the plastic bolt, it had trouble cycling. The cause was a pimple on the alignment grove for the bolt. When attempting to draw back on the bolt this pimple would not allow full travel, which caused it to stop the bolt from cocking periodically. Wiggling the bolt would allow the bolt to pass this high spot and after 400 rounds the pimple wore off. The second problem was the trigger had some creep. I am use to an Anschutz trigger, very light and quick, however this just gave me an excuse to do a trigger job on the Daisy. I found it relatively easy to do a trigger job on the 747, but I wouldn't advise just anyone to do it. I won't go into detail but the trigger job turned out fine and now it is a two stage trigger that tips the scales at 9.5 ounces. Please note that Daisy cautions that when triggers are adjusted to less then 2 pounds, the gun may fire if dropped.
The 747 uses a Lothar Walther 12 grove steel barrel. This barrel has proven to be very accurate in air pistol silhouette. I setup the 747 with a 15x Burris scope. I enjoy shooting higher power scopes as it can be a real challenge. I set some paper targets out at 25 yards and had some fun shooting from the standing position. Out of 50 pellets only 5 pellets were just out of the 2 inch 10 ring on my targets. The shooting range I was at is an outdoor range and on the test day there was a 4 to 6 mph wind. Shooting in the standing position at 10 yards on paper, groups fell well within a 1/2 inch ring.
Our shooters enjoyed the silhouette matches and the original three Daisy 747's grew to thirteen on the shooting line including three 717's. Two of the 717's are 1970 vintage and the other is a factory fresh test gun. In the next 6 months only one 747 had a problem, it popped the "C" clip on the air valve but this was easily fixed in 3 minutes during the match.
Daisy 7x7 Group Results

| | | |
| --- | --- | --- |
| | 717 | 747 |
| Daisy Super Match 7.9 | 0.485, 0.562, 0.355, 0.559, 0.60 | 0.465, 0.309, 0.45, 0.244, 0.512 |
| Crosman Premier 7.9 | 0.472, 0.725, 0.93, 0.815, 1.08 | 0.45, 0.31, 0.26, 0.26, 0.29 |
Five groups with five shots in each were shot from a benchrest at 10 yards and recorded in inches.
There is a very interesting situation that all air arm manufactures advise the purchaser about, "accuracy". For accuracy to stabilize at least 50 to 250 pellets should be put through the air pistol. Out of the box the 747's Lothar Walther barrel was shooting tight groups. When I performed my tests it had 2500 pellets through it. Out of the box the 717 was erratic, shooting groups as large as 1.54" but I was amazed to see the size of the groups diminish as more pellets were pushed through the barrel. After 200 pellets the 717's grouping was consistent and shooting groups close to the 747 using Daisy pellets. I'm looking forward to the bench test on the 717 at the 1000 pellet mark, to see if the additional shoot-in time will continue to improve accuracy and whether velocity will increase. It should also be mentioned that the accuracy bench test of both air pistols was shot outdoors in a light rain with 5-8 mph winds.
I'm glad Daisy gave me the opportunity to compare these two quality air pistols. At $55-$70, the 717 is an entry level air pistol and with just some time and patience shooting-in the barrel will give you an accurate and dependable gun. The 747's $105-$140 price will give you a shooting edge with the Lothar Walther's quality precision shooting barrel that needs virtually no shoot-in time.
Since the 747 is a single pump mechanism, using the 747 in a match is not as easy as using a bulk fill CO2 or PreCharged Pneumatic powerplant but it is not far behind. Please note, I did not include CO2 12gram cartridges since many of the pistols using them suffer from velocity decline and a cartridge changed is required in a 40 critter match. The cocking effort on the 7x7 is very light compared to some other single pump pneumatics.
I found the 7x7's to be very comfortable to shoot during a match. The grip angle is perfect for either extended arm and fixed sight or cocked elbowed with a rifle scope, although the stock plastic grips are a bit small for my hand.
I found the 717 and 747 sights to be adequate, the only complaint I have is that they are not easily adjusted. They use flat screwdriver slots in place of adjustment knobs but it's not a big problem since many of us use a screwdriver to adjust our powder gun sights, however a quick adjustment would be nice. This is where the 777 was better, the sights were easy to adjust.
At the present time I have in excess of 5000 rounds through the 747 and have not had any problems since I performed the trigger job at 50 rounds. There is one inherent problem with the 747, it's so much fun and so easy to shoot I loose track of time.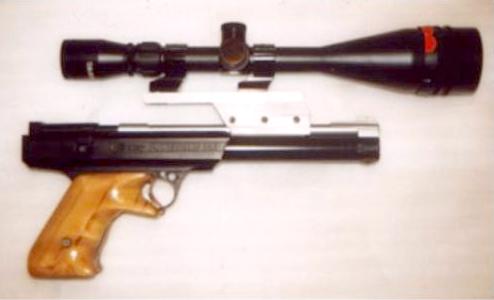 The 747 with a 5-20x 50mm Tasco MAG VI.
It has been over a year since I first wrote this article and I thought a follow up would be of interest. The 747 now sports a 5-20x 50mm Tasco MAG VI or a BSA 36x Contender scope, the trigger is now set to a single stage with about 5 1/2 ounces and I have installed a set of custom wood grips. This 747 has been an excellent performer and during this time I have used thousands of Daisy's 557 pellets.
A short time ago I was setting up the 747 for a match and I wanted to check group size at 18 yards, which is the distance for ram targets. I shot 5 shot groups using "+" signs on the target for point of aim while holding the pistol on the bench but not using the pistol rest. This has been my match pistol for 2 years but I was amazed by the 18 yard accuracy. It shot .15" and .25" groups with Daisy pellets, .35" and .43" groups with the TechForce pellets, and .243" group with the RWS pellets. I have given other manufacture's air pistols, ranging in price from $200 to $1200, the 18 yard test but none have matched the precision of this Daisy. I have tested many other 747's in this way and have found the consistency tight groups to be excellent.
The Daisy doesn't have all the bells and whistles of air pistols costing up to ten times as much but over the years of shooting silhouette with the Daisy 7x7 and higher priced air pistols I've come to an interesting conclusion. You don't really need all those bells and whistles for silhouette. The major needs would be accuracy, dependability and a manufacture that backs their product. The Daisy 747 has all that, the reasonable price is just an extra plus. What will the Daisy 747 do against air pistols costing 10 times as much? It will easily equal or out shoot them. Just a little history note on the entry level Daisy 717, it actually took second place silver in an Olympic event.
---

click the ad to visit this advertiser, View All Advertisers On This Page

---
>Diasy 7x7 Specs
Model
717
747
Manufacturer
Manufacturer
Daisy Manufacturing Company
P.O. Box 220,
Rogers, AR 72757
Type
Single Stroke Pneumatic
Caliber
.177
Velocity
360 fps
Energy
2.3 ft. lb.
Overall Length
13.5"
Weight
2.25 lbs.
2.35 lbs.
Cocking Effort
17 ft. lbs.
Barrel
Daisy 12 groove
Lothar Walther Match
12 groove right hand twist
Sights
Blade and ramp, open rear with windage and elevation adjustments
Grip
Molded woodgrain checkered; with contoured thumb rest
left-hand grip available
Trigger
Non-Adjustable Plastic
Single Stage
Adjustable Metal
Safety
Manual Crossbolt Trigger Block
Suggested
Retail Price
$72
$140
Back to Review Page
Back to American Airgun Home
Top of Page
---


click the ad to visit this advertiser, View All Advertisers On This Page

---
© Copyright 2006 by Brad Troyer & American Airguns
---