The Daisy 853 Air Rifle
By Brad Troyer
---

click the ad to visit this advertiser, View All Advertisers On This Page

---
As airgunning grows, many of the new airgunners look for a low cost match style airgun the has reasonable accuracy and an even more reasonable price. That is a pretty tough order these days with most match grade rifles well over $1000. Even the older used rifles can run you some big bucks. One choice many airgunners are choosing is the Daisy 853.
I have been getting a lot of questions and seeing a lot of posts on the various airgun forums on the net about the 853, so I decided to check on out for myself. I ordered my airgun and found that it wasnít easy to find one. I talked with the folks at Daisy and they told me that the 853 had been around a long time and that many organizations used the 853 (and itís older brother the 753) for youth programs. They tend to reduce the 853ís availability somewhat.

I was impressed when the UPS driver appeared at my door with my 853. I opened it up and found not only a beautiful air rifle packed solidly in itís box, but a nice array of accessories with it. It came with a set of interchangeable front sights, a nice sling, the standard documentation, and the rear sight packaged in itís own box. I managed enough discipline to snap a quick picture of it before I took it from the box and started shooting!
The rear sight doesnít come installed on the rifle so I first had to mount it. The 853 has a scope rail on the receiver which the rear sight slides onto. It is secured to the rail with two slotted screws. I scope can be installed, but I wanted to use the aperture sight with my rifle.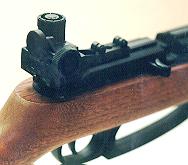 The rear sight is a standard aperture sight that has micrometer click adjustable windage and elevation knobs. Most of the sight is made of plastic with the exception being the rail mount. The click adjustments arenít real positive feeling, but you can tell when you move to the next adjustment and they hold the sights position without any problems. I found that there was plenty of range of adjustment to sight in all the way out to 30 yards or so. After that, you will have to hold over.
The front sight is a typical globe type with replaceable inserts. It came with six inserts, five circular and one post type. The front globe has a semicircular notch cut into it. By pushing on this area, an inner tube slides forward and reveals a slot on top of the globe. The inserts slides into the slot. When the tube is released, it slide rearwards and holds the inserts in place. I installed a circular sight and starter shooting.
The firing response was very nice. The rifle is quiet and doesnít move a lick when fired. The trigger was very creepy and a bit heavy, but I knew from past experience that it would improve after it had time to break in. Loading and shooting the 853 is much like many of the other Daisy pump airguns. The bolt is pulled back, you pump it one time, load the pellet, and shut the bolt. I found it to be almost exactly like a Daisy 880 that I own, except I didnít need to pump it ten time to get any power out of it.
The cocking handle is locked after it is pumped so there isnít any chance of it coming loose while preparing to fire (and it wonít allow you to pump it more than once). It is released again when the trigger is pulled. The cocking effort was fairly low, less than a Sheridan and about the same as the Daisy 880 on ten or more pumps. There is also a bracket on the cocking arm to which the provided sling can be installed. It slides on the cocking arm so that it can be adjusted to the shooterís taste. The cocking arm rests inside the forearm of the stock with only the cocking handle being visible.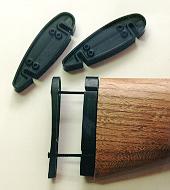 The stock of the rifle tested was a beautiful piece of Birch. I talked with Daisy and they said most 853s come with birch but they only gaurantee some type of hardwood. The grain on this rifle was very pretty. The stock was more of a sporter style but the pistol grip is much more vertical than most sporter stocks. I found it to be very functional and comfortable. One nice thing that Daisy did with the stock is to include spacers for the buttplate. This makes it quickly adjustable for younger shooters. The length of pull on standard stock without the spacers is about 12 inches. Each spacer adds up to 5/8Ē which with the three spacers supplied will increase the length of pull to about 14 inches.
For a gun that is toted as a match air rifle, I was rather disappointed that the trigger doesnít have any adjustments what so ever. The pull weight is rather long and heavy at 4 lbs. but fairly smooth. The pull started out kind of creepy but I found that it improved quite a bit as it broke in. I applied a bit of moly to the sear which helped smooth it out further. The trigger blade and trigger guard are made of composite plastic. Overall the trigger pretty good, but it isnít what I would consider a match trigger by any stretch of the imagination.
The 853 sports a Lothar Walther barrel which is finished off with a nice barrel weight. The barrel sets in a plastic sleeve that runs the length of the stock. It is a rather narrow barrel compared to other adult airguns. This doesnít seem to affect the performance however. The 853 performed very well, shooting mostly clover leaf and single hole groups at 10 meters. I also shot one group at 25 yards with Premiers that measured under 7/8Ē which I think is pretty good. The 853 shot the RWS Meisterkugeln the best. They seemed to fit very tightly in the barrel. I feel the overall groups could be much better if the trigger were better and if I had better eyes. I donít think the rifle shot as well off the bench as it did from normal shooting positions.
Daisy 853 Accuracy Results
Crosman
Supermatch
Beeman
H&N Match
RWS
Meisterkugeln
Average Accuracy
0.25
0.24
0.19
Smallest
0.16
0.18
0.13
Largest
0.30
0.30
0.27
Accuracy ratings are a result of 10 groups of 5 shots each at 10 yards.
Daisy 853 Velocity Results
Crosman
Supermatch
Beeman
H&N Match
RWS
Meisterkugeln
Average Velocity
416
420
392
Standard Deviation
8.18
4.07
6.22
Highest
432
426
400
Lowest
403
408
381
Extreme Spread
29
18
19
Weight
7.9
8.09
8.3
Energy
3.0
3.2
2.8
Velocities results are calculated from a 20 shot string.
I really enjoyed shooting the 853. I do a lot of long range shooting but that is limited to daylight hours. With the 853, I can shoot inside or outside on the back porch with the porch light. The rifle handles well and it easy to shoot repeatably. The cocking effort is low enough that you donít have worry about getting tired during a normal shooting session. I like to shoot at Kixcereal at 10 meters. It is yellowish color that is easy to see but only about a 1/4Ē in size. I found that target much bigger got to be too easy to hit.
I think that the 853 is a good entry level match gun. It has more than enough accuracy for the beginning youth shooter or seasoned adult. It is easy to shoot and a lot of fun too. I can see why so many are taking an interest in the Daisy 853.
---

click the ad to visit this advertiser, View All Advertisers On This Page

---
Diasy 853 Specs

Model
853
Manufacturer
Manufacturer
Daisy Manufacturing Company
P.O. Box 220,
Rogers, AR 72757
Type
Single Stroke
Pneumatic
Caliber
.177
Velocity
400 fps
Energy
3 ft. lb.
Overall Length
38.5"
Weight
5.5 lbs.
Sights
Micro Adjustable,
Interchangable
Aperature Inserts
Stock
Stained Hardwood
Safety
Manual
Trigger
Single Stage,
Non-Adjustable
Suggested
Retail Price
$225
Back to Review Page
Back to American Airgun Home
Top of Page
---

click the ad to visit this advertiser, View All Advertisers On This Page

---
© Copyright 2006 by Brad Troyer & American Airguns
---